3D Artwork From Frank Deardurff
These artwork pieces are done with software called Bryce 3D. Many of these were designed nearly 20 years ago and were on a site that I had called "My Digital Dreams". Some of them were originally displayed at Deardurff.com my original site which I've now converted to genealogy research. These images are designed in a wireframe workspace to get the layouts and materials are then applied before rendering for the final artwork. Quite time-consuming but also fun and rewarding. Click the images below to see them larger on their own page.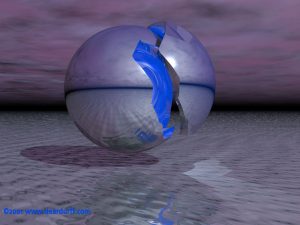 This was my first attempt on using negative elements to create two halves of an object. A lot of time spent on this one as there are several elements stacked in a close proximity before rending the solid model.